Viki | 2017-04-19
Who?
Our online coaching service is dedicated to those who are not able to attend a personal meeting for some reasons, however they want to participate in an individual development.
What?
Usually business coaching is for solving problems caused in business field but it can be very helpful in acquiring different skills, as well. We help leaders, managers, entrepreneurs with business coaching. The range of possible topics is wide. It can vary from career coaching to skill coaching. We can work on the development of basic leadership skills (motivation, team building, delegation, decision making, organization, communication, etc.) in order to create a ground we can build on later. Other interesting topics can be stress management, personal branding or career management.
When we say "executive coaching" we mean coaching of top management. In this case it's about the "personal training" of top managers, typical topics are strategic questions, change management and leadership dilemmas.
How?
An online coaching process contains 5 sessions, each 60-minute long usually through Skype.
Advantages:
no distance problems
if the coachee travels a lot (abroad, countryside) there is no need to suspend the process
no travel time
works after/before work time, as well
the feeling of a secure environment opens the coachee
the session can be taped for free, the coachee can listen to it later
every important tool and paper are easily reachable and are easy to send
These advantages are shown in this info graphic below: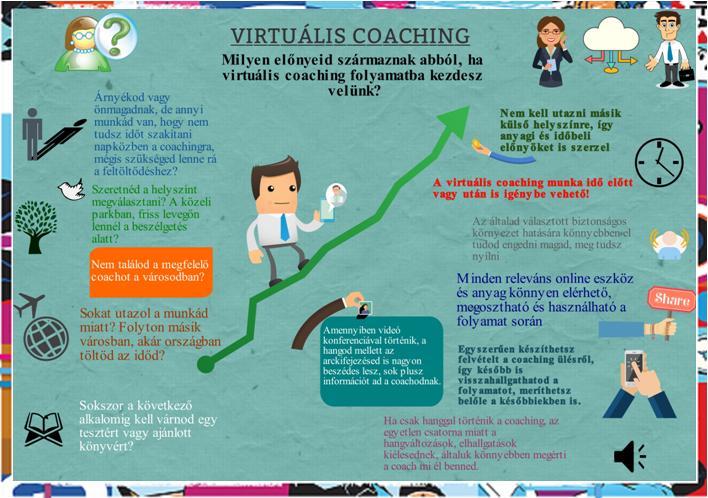 If you have any further questions, please contact us!
Barbara Bite
CEO
coach, trainer, management consultant
bite.barbara@coachingteam.hu
+36-20-9815-871