in which we inform you as a visitor of our website and the user of our services about our company's data management and data protection rules.
1. What are the principles behind our data management?
Our company follows the following principles in its data management:
a) your personal data is treated legally and fairly and is treated transparently for you.
b) personal data is collected only for a specific, clear and legitimate purpose and is not treated in a manner incompatible with the purposes.
c) personal data collected and processed by us are relevant and relevant to the purposes of data management and are limited to what is needed.
d) our Company takes all reasonable measures to ensure that the information we manage is accurate and, if necessary, up-to-date, inaccurate personal data is deleted or corrected immediately.
e) personal data is stored in a format that you can only identify for the time necessary for the purposes of personal data collection.
f) provide adequate technical and organizational measures to ensure the security of personal data against unauthorized or unlawful handling, loss of data, destruction or damage to data.
Our company
(a) treats your personal data on the basis of your prior and voluntary consent and only collect, observe, systematize, store and use them to the extent necessary.
b) In some cases, your data is legally binding and compulsory, and in such cases we will specifically alert you to this fact.
c) In some cases, our Company or third party has a legitimate interest in managing your personal information, such as the operation, development and security of our website.
2. Who are we?
The location of our Company: 1027 Budapest, Jurányi utca 10. 1st floor. 5.a.
The Company's premises are: 1027 Budapest, Jurányi utca 10. 1st floor. 5.a.
The website of our Company: www.coachingteam.hu
Contact: Barbara Siklós
Our postal address: 1027 Budapest, Jurányi utca 10. 1st floor. 5.a.
Our phone number: 06 1 614 1184
Our e-mail address: siklos.barbara@coachingteam.hu
Tax number: 22976385-2-41
Our company registration number: 01-09-947334
According to Article 37 of the GDPR, our Company is not obliged to appoint a Data Protection Officer.
Name, address and contact details of our company's hosting provider: Nastron Rendszerház Kft. – 1112 Budapest, Budaörsi út 150 b 1st floor 1.
In managing our data, our company uses the following processors to provide high quality service to our customers: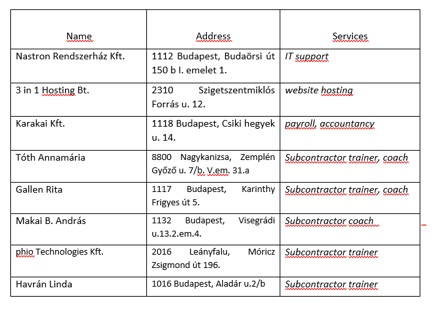 If we change the scope of our data processors, the changes will be transmitted in this prospectus.
Data we manage:
We only ask our visitors for personal information if they wish to subscribe to our newsletter.
We can not link personal information provided on the newsletter subscription and we do not fundamentally aim to identify our visitors.
If you have any questions about data handling, you can ask for more information on siklos.barbara@coachingteam.hu e-mail or postal address. We will send  reply to you within 7 days (but not later than 1 month) without delay.
3. What are the cookies and how do they handle them?
Cookies are small data files (cookies) that are sent to your computer via the website through the web site, so that they are saved and stored by your web browser. Most of the most frequently used web browsers (Chrome, Firefox, etc.) accept and allow the download and use of cookies by default, however, it is up to you to modify your browser settings to reject or disable them, or you are already stored you can delete cookies too. For more information on using cookies, see the "Help" section of each browser.
There are cookies that do not require your prior consent. These web sites provide brief information about your first visit, such as authentication, multimedia player, load balancing, cookies to customize the user interface, and user-centered security cookies.
About the cookies requesting consent, – if your data handling is started by visiting the site -, our Company will inform you and  your consent will be requested at the start of the first visit.
Our company does not use or authorize cookies that allow people to collect data without your consent.
Acceptance of cookies is not mandatory, but our Company accepts no liability if, in the absence of cookies, our website may not function as expected.
4. What do you need to know about our data management on our site?
You will voluntarily provide us with personal information when subscribing to our newsletter or contacting our Company. Therefore, we ask you to ensure that you  truthfully, correctly and accurately provide us your information, because you are responsible for them. Incorrect, inaccurate or incomplete data may be an obstacle to using our services.
If you do not provide personal information of your own but other person, we assume that you have the authority to do so.
You may revoke your consent for data management at any time
 by unsubscribing from the newsletter,
 withdrawal of consent to data handling, or
 when signing up, you must absolutely fill in or block your consent to the handling or use of any data.
The registration of the withdrawal of the consent is made for a technical deadline of 7 days, but please note that certain details can be handeled after the consent has been withdrawn to fulfill our legal obligation or enforce our legitimate interests.
In the event of fraudulent use of personal data or when a visitor commits a criminal offense or attacks to our system, simultaneously with the abolition of that visitor's registration, his or her data will be deleted immediately and, if necessary, retained for the purpose of establishing civil liability or prosecuting .
5. What should we know about our direct marketing and newsletter management?
By modifying your personal information stored on the platform of the newsletter registration (that is, your willingness to express your consent) you may agree to use your personal information for marketing purposes. In this case, until your consent is withdrawn, your data will also be handled for direct marketing and / or newsletter purposes and  advertising and other items, as well as information and offers and / or newsletters (Section 6 of the Act) will be sent to you.
You may grant your consent for direct marketing and newsletter either collectively or separately and / or withdraw them free of charge and at any time.
Cancellation of the registration is always considered as withdrawal of the consent. Withdrawal of consent for direct marketing and / or newsletter management is not interpreted as withdrawing a data management consent for our site.
Registration for the withdrawal or cancellation of individual contributions will be made by a 7-day deadline for technical reasons.
6. Other data handling issues
Your data may only be transmitted under statutory terms, and we in case of our data processors, we grant under contractual terms  that they may not use your personal information for purposes contrary to your consent. See Section 2 for more information.
Our company does not transmit data abroad.
The court, the prosecutor's office and other authorities (eg police, tax office, National Privacy and Data Protection Authority) may contact our Company for information, disclosure of data or filing of documents. In these cases, we must fulfill our reporting obligation, but only to the extent necessary to achieve the purpose of the request.
Contributors and employees participating in the data management and / or data processing of our Company are entitled to know your personal data to a predetermined extent, subject to the obligation of confidentiality.
We protect your personal information with appropriate technical and other measures, and ensure the security, availability and security of data, as well as unauthorized access, alteration, damage, disclosure and any other unauthorized use.
Through organizational measures, we check physical access to our buildings, keep our employees up-to-date and keep paper-based documents protected with adequate protection. We use encryption, password protection and anti-virus software in technical measures. However, your attention is drawn to the fact that data transmission over the Internet can not be considered to be a fully secure data transfer. Our company does its utmost to make the processes as safe as possible, but we can not take full responsibility for the transfer of data via our web site, however, we strictly comply with data received from you to protect the security of your data and prevent unauthorized access.
7. What are your rights and remedies?
You
 may request information about your data management,
 may request the rectification, amendment, supplementation,
 may object to data handling and may request the deletion or blocking of your data (excluding mandatory data handling),
 may have legal remedies before the courts,
 may file a complaint with the supervisory authority or initiate a procedure (https://naih.hu/panaszuegyintezes-rendje.html).
Supervisory Authority: National Data Protection and Information Authority
Head office: 1125 Budapest, Szilágyi Erzsébet fasor 22 / c.
Postal address: 1530 Budapest, Pf .: 5.
Phone: +36 (1) 391-1400
Fax: +36 (1) 391-1410
E-mail: ugyfelszolgalat@naih.hu
Website: https: //naih.hu/
At your request, we will provide you with information processed  by us or our authorized processor
 information,
 their source,
 the purpose and legal basis of data management,
 its duration and, if this is not possible, the points of the determination of this period,
 about the names, addresses and data management of our data processors,
 the circumstances, effects of data protection incidents and their actions to overcome them, and
 in case of transfer of your personal data from the legal basis and the address of the transfer.
We will provide our information within 7 days (but not later than 1 month) as soon as the application is submitted. Information is provided free of charge if you haven't already submitted an information request for the same data field in the current year. We will provide you with a refund if you have been unlegally treated or your request for information has been corrected.
Our Company will notify you of any personal data correction, blocking, marking or deletion and will notify anyone who previously forwarded the data for data processing, unless the failure to notify violates your legitimate interest.
If we fail to comply with your claim for rectification, blocking or deletion, within 7 days (but not later than within 1 month) of receipt of your request, we will send you, by electronic means, the reasons of refusal, and we will inform you of the legal remedy.
If you object to the handling of your personal information, the protest will be examined within 7 days (within a maximum of 1 month) within the shortest possible time from the submission of the request and the decision will be provided in writing. If we have decided that your objection is well-founded, data handling, including further data collection and data transfer, will be discontinued and the data will be blocked.
We will refuse to comply with this request if we prove that data management is justified by legitimate enforcement reasons that are of interest to you, your rights and freedoms, or which relate to the submission, validation, or defense of legal claims. If you disagree with our decision or we fail to comply with the deadline, you may contact the court within 30 days of notification of the decision or the last day of the deadline.
Please do not hesitate to contact our Company before contacting the supervisory authority or court with your complaint – in order to resolve the issue and solve the problem as quickly as possible.
8. What are the main guiding rules for our activities?
 Regulation (EU) 2016/679 of the European Parliament and of the Council on the management of personal data by the natural persons (GDPR)
 Act CXII of 2011 on Information Freedom of Information and Freedom of Information; Act – (Info tv.)
 Act V of 2013 on Civil Code (Ptk.)
 in accordance with the CVIII Act of 2001 on certain electronic commerce services and information society services; Act – (Eker tv.)
 Act C of 2003 on Electronic Communications (Ehtv)
 the 1997 CLV Act on Consumer Protection; Act (TV show).
 the CLXV 2013 Complaints and Announcements for Public Interest; law. (FAs).
 Act XLVIII of 2008 on the Fundamental Terms and Limitations of Economic Advertising Activity. Act (Gvt.)
9. Modification of the Data protection information
Our Company reserves the right to modify this Data protection information, and will inform you about it properly. Data protection information is published on the web site www.coachingteam.hu/data-protection-information.
May 15, 2018