Individual coaching references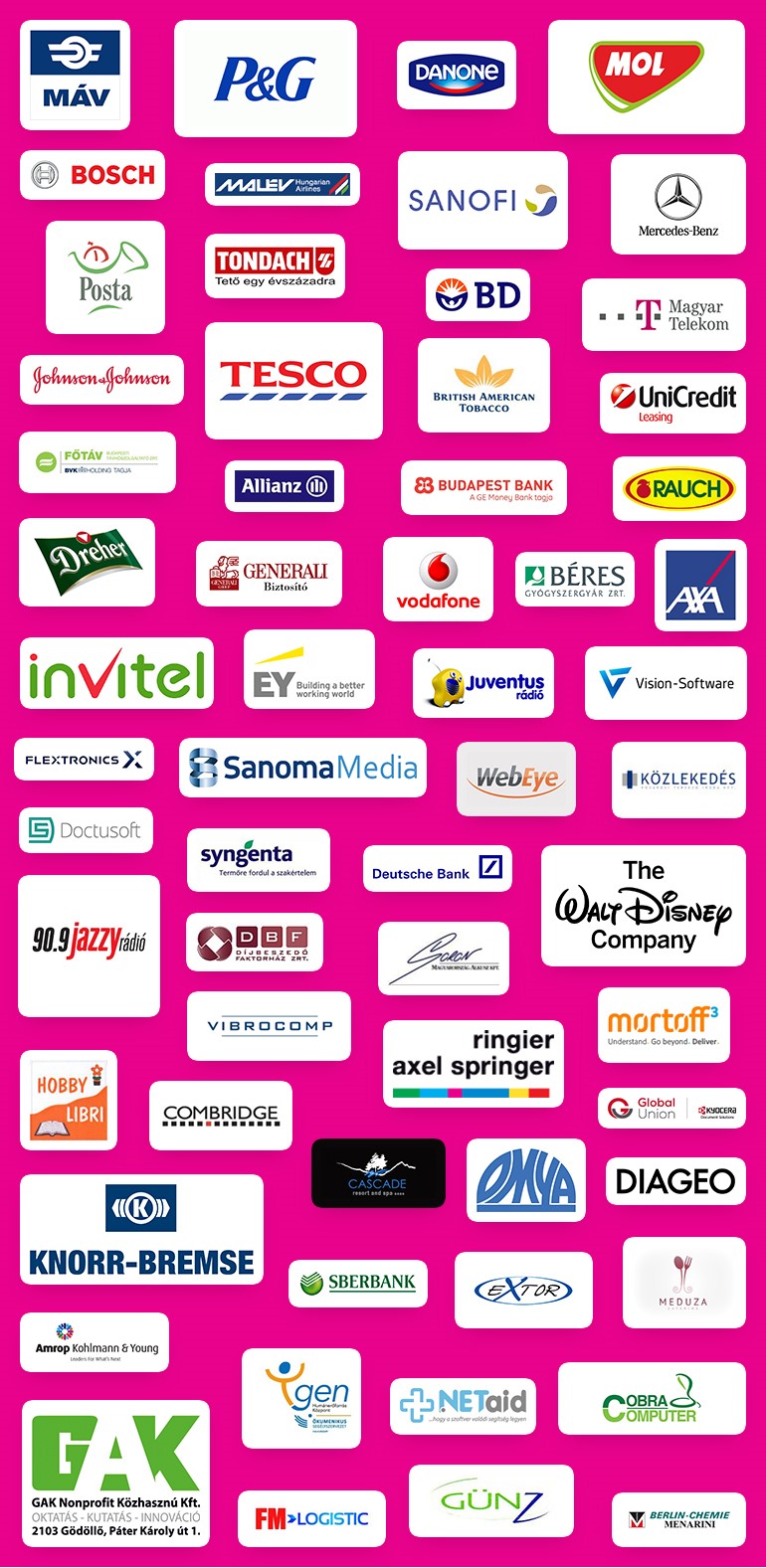 "Barbara managed to influence the speed and the direction of the coaching process, so it was the best for me- and it didn't even appear to me. We worked in a rhythm as if my current problems were as easy as high school math problems that I have to solve. It's still hard to believe that somebody, only in a few hours, made me able to solve the situations that I have fought with for years. It was a life changing experience."
The Walt Disney Company
"I found a Person in Barbara who I trust. I could honestly share my problems with her that I had to face as a leader. The questions she asked me inspired me to find more solutions for the situations that meant problems to me. I felt that she really listened to me, her goal was to help me with my improvement."
Magyar Posta Zrt.,
"Barbara built up the whole coaching process consciously and in a structured way. She used the right tools in the right time. She won my trust in a short time as a trustworthy, prepared coach and as an experienced leader. We spoke the same language so I could rely on her personality and techniques. She made me set up and make conscious things that I felt in myself, but couldn't interpret before. She was successful in facing me with myself, and I realized my positive and negative sides. I can say that Barbara's coaching gave me a lot and I'm sure, the knowledge she gave me will help me reach my short-term and long-term goals and I can also use it right in the company."
Béres Gyógyszertár Zrt.,
"For the first time I had high expectations against coaching- and they have been fulfilled. My self-knowledge improved so we could set up relevant goals for the coaching. The new tool I got to know helped me a lot with reaching my goal and become a better leader. I got to know Barbara as a professional, positive and empathetic coach who has a wide range of tools that she can use in a right way in the right situations. Thanks to her leadership past she understood the situations very quickly and helped me realize important details that I wouldn't even think of by myself. I find the past three months very enjoyable and useful. I can only recommend it to anybody."
P&C Central Europe South,
"Working with Mary: I think it is a very cool and funny thing if you find the inspiration that you search for outside, in yourself. It was the feeling as if you would chat with your old friend in the park. And I felt this "old-friend-feeling" way more often than the "client-feeling". It's weird and confusing if the conversation is only about your problems and thoughts. When you get a lot but give just a little. Especially when you look up after a long thought and she looks at you like: "good, keep going!"
BD Medical Kft,
"Mary can get trust of the coachee very quickly with her cheerful and direct personality. Her knowledge, experience and techniques helped me a lot get a clear picture about myself, my environment, challenges and successes. Her feedbacks always helped me to process the current topic. I loved working with her, I recommend it to everybody who is ready to look into themselves and accept a professional, kind coach's help."
Mortoff Kft, CEO
"The coaching with Mary was always easygoing and successful even if we talked about the hardest topics. We always found personalized solutions for the problems so using them is natural for me. I learned a lot of techniques that I can use successfully in the future."
Közlekedés Kft, CEO
"I liked working with you because you weren't "sterile", you stayed a human being. Your interest is real, I see your enthusiasm, I felt it in each moment. During the whole coaching process I felt that you were a professional, you were flexible, and you could follow the current needs and the changes of the process. I learned a lot from you about good communication, that I needed a lot- like everybody else in common, as I see."
MÁV CSR section
"The coaching with Mary was a unique experience because of the sensibility, vitality and creativity that flood from her personality, and because her experience in adult education was added to that personality. If I needed she made me fly, If I needed she calmed me down and she asked me questions that made me think even after months… meanwhile the whole coaching process was pervaded with the humility that she felt for the coachee and coaching."
Improvers Group Client Partner
"Andi helped me through the initial uncertainty. She made clear the process of the coaching fast. Sometimes she asked me unexpected questions zealously and smiling, and while we were examining the possible answers I realized the right solutions. Thank you and I recommend it everybody, who wants to become simply better."
Mercedes-Benz Hungária Kft
"I felt as if I had deviated from the right path, that's why I asked a coach's help: to get me back to the right path. She not only showed the direction but also the new rules, so I can prepare myself for the changes. In this world, where everybody is searching for the loopholes, it's good to know that we should enter the main entrance. Many thanks to Andi who opened the door for me."
Production manager
 
"The coaching was a whole new section for me and that was the first time I participated in such a process. The most useful thing for me was that in the rush I got that few hours in a structured form when I could think about myself. Without this coaching I wouldn't/couldn't have done it. They helped me realize that I already manage my stuffs in a relatively good way and they gave me a helping hand so in the future I will be able to further refine them. I think that our cooperation was useful."
Johnson&Johnson
"I met Andrea during a survey and I got the opportunity to work with her. From the very beginning she felt where and in what she could helps me both in business and in private life. On each meetings I always got tasks from her that made me stop and think of the current situations, exercises, problems… how can I solve them? She always helped me. It was a great experience to work with her! Thanks!"
UPC
"Rita was suiting to my actual needs maximally. It is also true about handling the problems of that certain day. She was able to help me both short term and long term. She is supportive and helpful."
Deutschebank
"Rita was always handling my actual needs in a flexible way. I liked her keeping the frame and timing in her hands. It was showing strength to me. She was turning to me with humility, respect and acceptance; she was actively listening to me, which rose me. She was led by helping me honestly and not presenting herself. It was very important for me! Kindness, strength, respect, faith and ATTENTION – these are the most significant things I received from Her."
Senior logistical consultant
"Rita is a very helpful and optimistic person. During our sessions she never told me what to do, but she was leading me with her questions and remarks what I should be thinking about, and how I should change the "non-working" parts of my life. Rita's constructive feedbacks helped my self-confidence. By doing and analysing the different tasks during the sessions I can already see myfelf and the world in a more positive way:) The atmosphere of our conversations has a wide range: her honesty, humour and trusful personality impacted me in different ways: from crying to laughing."
Omya Hungary
"Rita is an open, creative and very dinamic person. Her professional preparedness is high level. She was leading my preparation in a determined way with a lot of patience. During the pleasant sessions she was always able to keep my interest and easily helped me get through the downturns."
Extor Kft
"Rita contributed to the achievements of our team with her excellent work. I have known her to be a very honest person since we started the sessions. She makes a difference by understanding and handling the evolving situations in a flexible way. She is able to accept constructive criticism and continually works high level. Sometimes it is enough that she is listening to me, but I often got very good advice from her. She has an intuition for it! This is a positive experience to work with her: she's reliable and intelligent with a great sense of humour."
Omya Hungary Kft
"For Rita, the 'perpetual motion' coach, whose professional and human support helped me step onto the path leading to my dreams. Her personality is very friendly, encouraging and highly motivating. Her enthusiasm always shaked me. During the sessions you forget about your fears and only focus on your targets. She always reaches that you start believing in yourself and the success of the tasks ahead of you. She is clear-sighted and quickly estimates the needs of the team or the individual. I recommend her with brave heart to all of those coachees who have plans, who want to change, who have a block, or those who need encouragement."
Omya Hungary Kft
"With the help of Rita I had an insight of such things and defects that could provide a clear understanding of the situation I was in. Every session made me richer of more consciousness about myself which was not always easy or pleasant. However, facing my limits and difficulties definitely helped me come out of the stuck condition I was in. Rita was able to show me these in a very delicate way: instead of making me feel painful or unsuitable, she motivated me for change. The sessions always filled me up with new strength and enthusiasm, as she was always PRESENT with her whole heart and soul. I liked the way she was flexibly changing the methods according to the process going on inside me or what I needed that moment. We always had the frame and the target we were proceeding to."
NetAid Kft.
"What comes into my mind about Rita in 5 words? Inspiration, motivation, network, honesty, and openness. I'm recommending her to everyone who desires new perspectives in thinking, everyone, who needs an inspiring conversation and everyone who wants to see themselves and the world positively."
Propack Hungary
"I worked with András first in 2011. He helped me to find my work-life balance, which seemed very unbalanced those times. The common work gave me energy. This year, after a very hard year, I felt again that I need help. I knew who I have to turn to."
Combridge SRL
András was able to pay 100% of his attention to me, to my problems, situations and to my mentality/personality, but he could efficiently answer as an external observer. He helped my development greatly during the sessions and during the breaks between sessions with active listening and with his interjected, illuminating thoughts and questions.
TEVA
"It was very hard to choose a coach at the first time, because I had high expectations against the person, whose advice and guidance I can trust. I had a lot of interviews with different coaches before I met András. First, the professional authenticity was very important for me, namely to bring something to the table before he supports senior officials. In András I got to know a man who was strong in both in humanity and realism. Before we started our journey, I was afraid that it wouldn't work out because I'm a person who really hates when someone tells how it is. I had a big luck with András because he isn't the person who tells me what to do or give advice but asks, guides, reveals, and does it incredibly efficiently and with professionalism. I enjoyed every meeting, always waited the next session and felt sorry when it ended.
Training participant
Teamcoaching references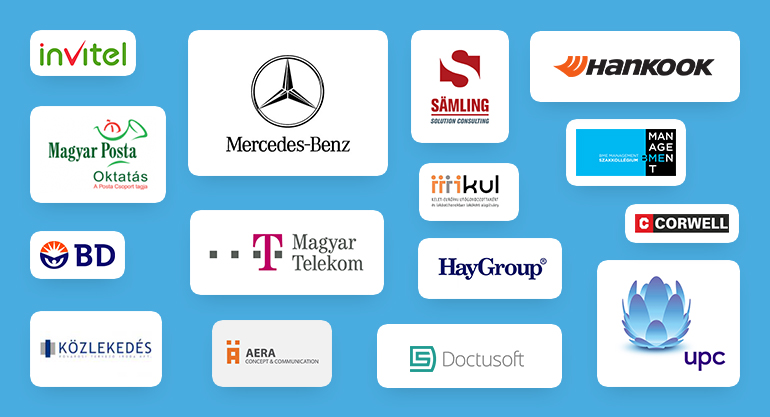 "Annamária supported the teamcoaching process with excellent professionality. The techniques she used helped us realize the free potentials in the company that we can use in order to reach more success in business. We drew up concrete goals with alternative solutions that we've used since then; and we see the results. We remembered for that forenoon with an honest happiness and we recommend Mary to everybody!"
Magyar Posta Oktatási Kft
"The personal coaching and the teamcoaching matched and they were extremely efficient. It helped us become a real team. It was a professional work, I can only recommend it!"
Participant of a teamcoaching
It can give energy to a team that may not face big problems, but still doesn't work perfect."
Participant of a teamcoaching
"The leading of the team is trustworthy, sophisticated but definite, affectionate, attentive."
Participant of a teamcoaching
Training references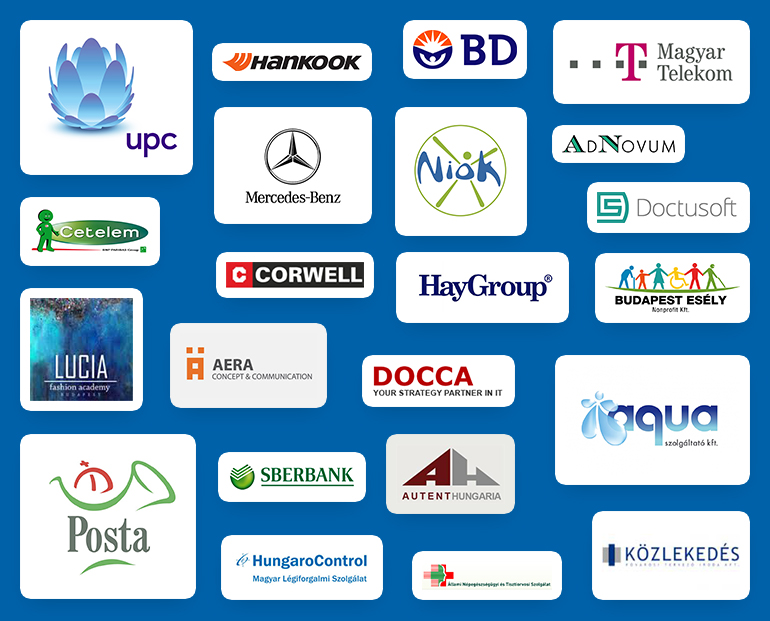 "I had the opportunity to get to know better myself and how I should behave in certain situations during practical excercises."
UPC Hungary
"It was a training where the different generations were present, not only in theory but also in reality. We found out the differences and also our strengths between us by our own experiences. Interesting, open minded, dedicated and trustworthy trainers helped us."
Tyco Electronics Hungary Kft
"I strongly believe that my colleagues should also attend such a training in order to make the common work easier and more enjoyable."
UPC Hungary
"I appreciate our trainers both professionally and humanly. We could participate in a work in an excellent atmosphere and it meant a great experience for all of us. I'm glad because I could be a member of this "dream team". I feel that I'll be able to use what I heard and experencied here with a big benefit in the future. Thank you very much!"
Szent István Univesity
"The training gives a light to everybody who feels as if they were lost in generation questions. It not only starts you on the way but also waits for you in the finish. It's a common "wall climbing" that covers many challenge, conversation, emotion, and learning."
Szent István University
"It can be applied in any professional field or even in the private life. It can be learned also by leaders, public figures, sales persons. It makes you think."
Szelényi Kft.
"The training helped me recognize my deficiencies and strengths. I learned a lot today. I enjoyed it!"
Pro Regió Nonprofit Közhasznú Kft.
"It was a well structured training day. Not too busy. Practical, flexible training with a good atmosphere."
Stora Enso Packaging Kft.
"I recommend it because of the knowledge that was shared and learned in each topics."
Simonka Marketing Kft.
"When Mary works, she is the balance of ease and professionalism."
Participant of SolutionSurfers training
"She is trustworthy and made me enthusiastic while she is able to pay 100% of her attention to the group."
Training participant
"The answers are in our head. Mary is able to ask us the right questions, so we can realize these answers."
Training participant
"Her team leading was full of humor, energetic, fluent, clear, understandable, free, sophisticated, structured, organized, provident, mindful, cheerful, helpful, forehanded, meaningful and colorful."
Training participant
"It was a well structured, meaningful, intensive and useful experience for young leaders, which gave a big dynamism for the following."
Training participant
"Goal oriented, targeted, flexible, professional, accurate, trustworthy, perfect trainers."
Training participant
"The theoretical knowledge is digastable, and it isn't tailored to academic but to real situations and to life. The trainer and the participants were awesome, and we could learn a lot from each other. The atmosphere was good and friendly."
Energiaklub
Organization development references